Welcome to Dorset Darts
This is the Official home of The Dorset County Darts Association. Here you can find all the latest information from The British Inter Counties Championship, Dorset Superleague and related Competitions plus any Local Competitions... Enjoy Your Visit.
Roadworks Ashley Road - 1st/2nd November
Please Note: There are ongoing roadworks along Ashley Road this weekend. As a result you may experience delays as you approach the venue due to traffic congestion.
UPDATES
Last update - 29th October 2014
(Superleague - Rosie Carter League Table, Superleague Week 4 - Ladies Avgs, Top 10 Avgs, League Table, County Weekend News & Local Competitions)
Las Vegas Casinos play host to some of the worlds biggest darts tournaments including the Desert Classic and Team Dart events.
Dorset Sponsorship Opportunities
Dorset have an Opportunity for Businesses, Teams and Pubs/Venues to Sponsor a number of the Darts Surrounds Purchased for the the set up at
Branksome Con Club as well as advertising in our County Programme next season.
Upcoming Fixtures and Competitions
1st/2nd November
15th November
6th December
County
Superleague
Superleague
Dorset News
County Weekend - 1st/2nd November 2014
The support at Dorset's opening match against County Durham was fantastic, many local players came along to add their voices to the ever growing number of spectators. They were not to be disappointed in what turned out to be a feast of darts and a terrific result for the home team.
Once again, anyone wishing to attend the second match of the campaign is more than welcome. This weekend 1st/2nd November is against our local rivals from Hampshire. Our Chairman Dave Jenner is making the trip over from Cyprus and will be joining the audience on Saturday.
Top Of Ghent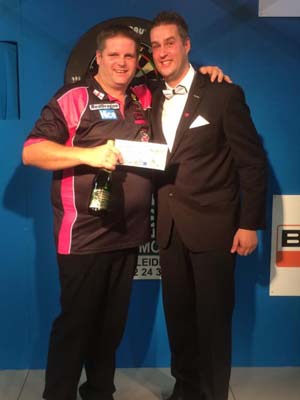 On the 18th October, Dorset's Scott Mitchell was once again in action.
This time his travels had taken him to the city of Ghent in Belgium, where he was playing in a tournament aptly named the Top of Ghent.
This is one of a series of competitions held in Europe, where players attempt to gain points that go towards a qualifying place at the Zuiderduin Masters. This televised event is held later in the year in the Netherlands.
It is with great pleasure that I can report that Scott is now the Top of Ghent Champion 2014.
His route to the final is listed below:
1st round - Patrick Huss (Luxembourg) 4 - 0
2nd round - Chris van den Bergh (Belgium) 4 - 1
3rd round - Richard Huizinga (Netherlands) 4 - 0
4th round - Gary Stafford (England) 4 - 1
5th round - Fabian Roosenbrand (Netherlands) 4 - 1
Q-final - Ted Hankey (England) 5 - 3
S-final - Remco van Eijden (Netherlands) 2 - 0 Sets
Final - Joppe Bakens (Netherlands) 3 - 0 Sets
An impressive and commanding darting display with the last two matches covered live on Eurosport.
Winmau World Masters
Dorset had three individuals playing in this tournament, starting on 9th October 2014.
Daniel Perry (Lytchett) was once again in action in the boy's event. His first round was against Shane Doherty of Northern Ireland, a steady start earning him a 4-1 win. Round two was to be a match against Mattias Flodin of Sweden, another solid game sees Dan through 4-2. Next up was another lad from Northern Ireland, Jason McDonnell. A very high scoring match ensued, this time Dan was to fall short 2-4.
Eddie White (Blandford) had qualified for the championship and was drawn in Group 9. His first opponent was the high scoring Joni Laine from Finland, Eddie was equal to the task and won by 3 sets to nil. His second match was against the young but very experienced Jimmy Hendriks of the Netherlands. A close often tense match was to follow, Eddie with a couple of timely 120 shot-outs closed out the match 3-1. Eddie was well into his stride now, his next challenger was Cedric Waegemans from Belgium, there was to be no catching Eddie who dispatched him 3-0, only dropping one leg in the process.
The next game was the board final with a televised match against the number 3 seed Alan Norris as a reward. His opponent, Chris Dobey from Northumberland had been playing well all day, this continued to be the case. An extremely tightly fought match was to follow, Eddie putting up a great fight but losing out 0-3, this score-line did not justify the match, as every set went to the deciding leg.
The other representative from Dorset was Scott Mitchell (Lytchett). Scott had secured himself a place in the last 32 as the fourth seed from his BDO tour ranking. His first match was to be a repeat of his Lakeside first round from last year. 'Crocodile Dundee' Paul Hogan, as expected, produced another thrilling tight contest, another 161 shot-out when it looked like he was about to go out. Scott held his nerve and took the match 3 sets to 2. Up next was the much fancied Swede, Daniel Larsson. From the off and with an amazing display of power scoring Scott took the match 3-0.
The Winmau format as it is makes for very exciting viewing, sets being won in the blink of an eye. Scott was again soon ahead in the match, but within a flash, his fellow England international Glen Durrant was all square. A strong last set from the Cleveland player was to be enough to see him through.
A great show from the travelling darters of Dorset.
Lakeside World Championship
The Lakeside play-offs were held up in Hull on the 8th October 2014. Taking part in the youth section was Daniel Perry (Lytchett). Despite playing well his opponent Javanico Jansen from the Netherlands took the honours on this occasion.
The Ladies representative was Trina Perry (Lytchett). Her first round opponent was Dutch International Tamara Schuur. With high scoring and an impressive 126 shot-out Trina wins 3-1. Her next match was a walkover as her rival did not show. The third round was against Rachna David of Norway, unfortunately she was too strong, Trina losing out in a close match, not what the 0-3 score-line would suggest.
Mark Porter (Lytchett) competed in the Men's event. After taking the first set 3-0, his opponent Michel Boulet of France stepped up his scoring to take both of the next two sets 3-1 along with the victory.
Dorset v County Durham Report
Dorset played their first match in the BICC Division 1 this weekend 4th/5th October against County Durham. They were hoping to continue the form that saw them narrowly miss promotion to the premier division last season.
On Saturday at midday the Ladies B opened Dorset's campaign, first up was Felicia Blay (Melcombe Regis) unfortunately she struggled to find her top game and lost 1-3 (13.76). She was followed by Claire Whatley (Bournemouth) playing her 5th game since her return to the county stage last season, she hit a 16 dart final leg to win the game 3-2 (18.34) and the Lady of the match award. This was to be Dorset's only win in the Ladies B as the last four players despite playing well failed to win any of their games. They were Lin Bellingham (Melcombe Regis) 0-3 (16.94), Julie Boggust (Lytchett) 2-3 (17.43), Donna Mabbatt (Poole) 1-3 (17.31) and Ladies Captain Sally Old (Sherborne) 0-3 (17.07).
1-5 down and not the start that the team had hoped for.
The Men's B team were next on to the stage. First up returning from a back injury was Steve Penney (Lytchett) winning 3-1 (23.80). Second to play was Terry Gowans (Melcombe Regis) checking out with a superb 101 to win his match 3-2 (23.59), Matt Woodhouse (Alderholt) was clinical with a Man of the match award winning performance 3-0 (27.83). Fourth to play was Sean McMurray (Portland) despite hitting the first 180 of the match he just lost out in the deciding leg 2-3 (24.50). Up next was Lee Turle (Kinson) making his 10th appearance for the county, a terrific win 3-1 (26.51). Last up before the break was Rich Perry (Lytchett) although taking two shotouts of 106 and 113, lost 2-3 (21.98).
With the match score standing at 5-7 in the visitors favour, the second half of the men's match began with Graham Knight (Dorchester) his new darts performing well, winning 3-1 (25.18). With 313 previous appearances under his belt, the veteran and team Manager John Clark (Lytchett) wins 3-0 (25.47). The match now all square Rob Martin (Alderholt) takes to the stage to put Dorset in front for the first time in the day 3-1 (22.77). Next up Men's Captain Mark Porter (Lytchett) extending the lead winning 3-1 (25.46). The penultimate game of the day was Alan Ayres (Sherborne), fighting back from 0-2 down and just missing a 119 shot in the last leg he loses 2-3 (23.53). Final man to play was Steve O'Marah (Alderholt) ending his run of bad luck with a solid win 3-0 (22.10). The Men's B match result was 9-3 giving a running match score of 10-8 to Dorset.
Sunday morning was the start of the A team matches, the Ladies start the proceedings again.
First up was Trina Perry (Lytchett) not finding her range, losing 1-3 (14.08). Second to play was Peri Yarrow (Sherborne) back to winning ways with 3-1 (16.80). Up next opening with a superb 16 dart leg was Suzy Trickett (Lytchett) winning 3-0 (20.31). Fourth game up was Caroline Carter (Bournemouth) getting better with every dart she threw, yet another 16 dart leg to win the game and the Lady of the match award 3-0 (23.12). Sarah Chick (Sherborne) played out a five leg epic but just lost out 2-3 (18.34). The finale was another exciting five leg game, Julie Frampton (Christchurch) coolly hitting a 19 dart leg to win 3-2 (19.73) and the Ladies match 4-2.
This made the overall match tally 14-10.
The Men's A team now needed just another five points to take the victory. First on stage to take up the challenge was Ryan Gowans (Melcombe Regis), not to be outdone by his father who had played on the Saturday, trailing 1-3, taking out a 140 shot to swing the momentum and a win 4-3 (26.08). Making a return to the A side was Richard Gomm (Melcombe Regis) taking the game 4-2 (26.96) and collecting the Man of the match award for his efforts. Keeping the wins on target was Tim Clothier (Alderholt), with a nail-biting seven leg game 4-3 (26.56). By the fourth game there was a technical fault with the stage microphone, in spite of this an undeterred John Bothamley (Poole) fought out a hard game just losing 3-4 (26.29). Next up was Matt Read (Sherborne) who played Durham's Man of the match, losing with a respectable 0-4 (24.22). Sixth game was to see Nigel Lamb (Sherborne) step up to get the point to seal the match draw, he did this in style 4-3 (26.86).
The second half of the Men's A match would see Dorset's England International Scott Mitchell (Lytchett) take to the stage to have the honour of sealing the match win. A solid performance winning 4-1 (26.35) would take the win and the bonus points. Despite best endeavours from the home players, Kevin Smith (Poole) 3-4 (24.81), Steve Earley (Boscombe) 1-4 (25.84) and Mark Grimes 3-4 (Christchurch) the next three matches went to the visitors. A late rally from the last two Dorset men Dale Masterman (Lytchett) 4-2 (23.06) and Thomas Chant (Blandford) 4-0 (22.02) would give the home team a fantastic 21-15 triumph.
Europe Cup
As we reported earlier in the month, the Europe Cup was taking place in Bucharest, Romania over the last weekend of September. The format was made up of pairs, singles and a team competition. The players would earn points for their respective teams depending on how far they finished in each contest. Some thirty countries from over Europe were represented. Dorset's Scott Mitchell was once again donning his England shirt to assist the English crusade.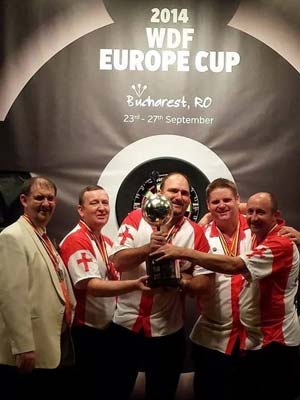 The first event was the pairs, Scott was paired up with his namesake Mr Waites from Yorkshire. This proved to be a perfect match as the two Scotts won the Gold medal. Winning their sixth match against fellow English pairing of Glen Durrant and James Wilson 6-5 in an extremely close final.
The following day was the four man team competition, each man to play against each of their opponents over one leg, first team to nine legs. England battled to the final where they faced a strong squad from Wales. This was another superb display of darts with the Welsh taking the victory 9-7, a Silver medal for the England team.
The singles was the next event, Scott played well making it through to the third round where Michal Ondo of Czech Republic proved too strong ending the Dorset lad's run. The overall competition was won by the men of England, giving Scott two Gold and one Silver medal to bring home.
Darts World
Congratulations to Daniel Perry who was named as Darts World's Star Player Of The Month for October 2014 (Number 503) for his recent success in local competitions.