We are pleased to announce that Dorset are now able to supply some Official Dorset Merchandise in the Shape of Polo Shirts, Hoodies and Zipped Hoodies.

These are all available in all sizes from Child to all Adult sizes.

Prices:
Polo Shirts with Dorset County Darts logo and with Castle and Darts - £15
Hoodies as above - £20
Zipped Hoodies - £25

To Order yours please contact either Designs by Sazz or Sharon Mitchell.

£3 from each sale goes to help Fund Dorset.
Welcome to Dorset Darts
This is the Official home of The Dorset County Darts Association. Here you can find all the latest information from The British Inter Counties Championship, Dorset Superleague and related Competitions plus any Local Competitions... Enjoy Your Visit.
UPDATES
Last update - 2nd March 2015 (Local Comps x2)
Las Vegas Casinos play host to some of the worlds biggest darts tournaments including the Desert Classic and Team Dart events.
Dorset Sponsorship Opportunities
Dorset have an Opportunity for Businesses, Teams and Pubs/Venues to Sponsor a number of the Darts Surrounds Purchased for the the set up at
Branksome Con Club as well as advertising in our County Programme.
Upcoming Fixtures and Competitions
7th March
14th/15th March
21st March
Superleague
County
Superleague
Dorset News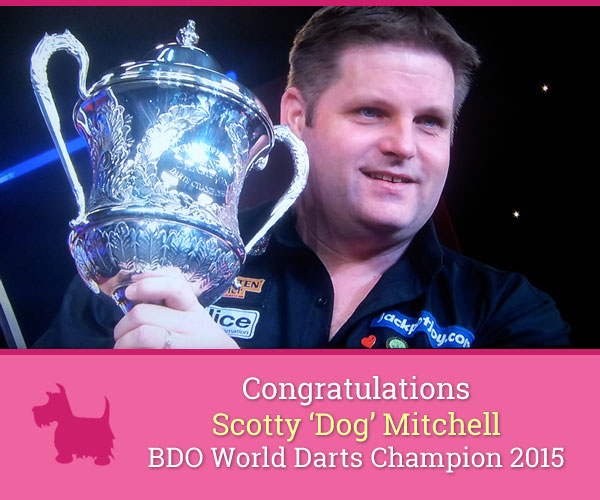 World Darts Trophy 2015
The second BDO major of the year starts on Thursday 26th February at Event City in Manchester. The World Darts Trophy will see Dorset's Scott Mitchell attempt to add another title to his growing portfolio. Coverage starts at 6.30pm on British Eurosport on Thursday. Scott begins his campaign against the same opponent in the first round as last year, Canadian David Cameron on Friday evening.
Last 16
Unfortunately a 2-7 defeat against Wayne Warren ended Scott's campaign on the World Darts Trophy as the Welshman won the last 5 legs straight to reach a men's quarter final against Jeff Smith.
Match Stats - Scott Mitchell v Wayne Warren
Last 32
Scott overcame his first round opponent Canadian Dave Cameron 6-3 last night. In the second round on Saturday 28th February he will face Welsh International Wayne Warren. The game is scheduled to be screened at 19.20pm on Eurosport. (Please Note: Schedule may change)
Match Stats - Scott Mitchell v David Cameron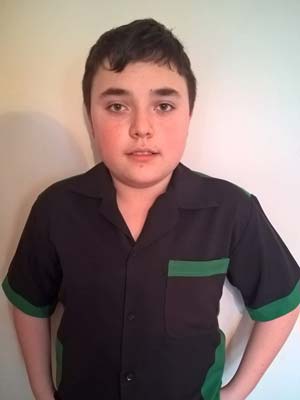 Home Internationals 2015
Scott will be in action again for England when the 12 man side travel to Wales for the Home Internationals.
He will be joined by 13 year old Daniel Perry, who will be making his debut for the England Youth team.
This will be held over the weekend 10-12th April 2015 at Penydarren Social Club in Merthyr Tydfil.
Dorset wishes both players the best of luck as they represent their country.
Six Nations Cup 2015
This competition was held in Belfast, Northern Ireland over the weekend 20-22nd February.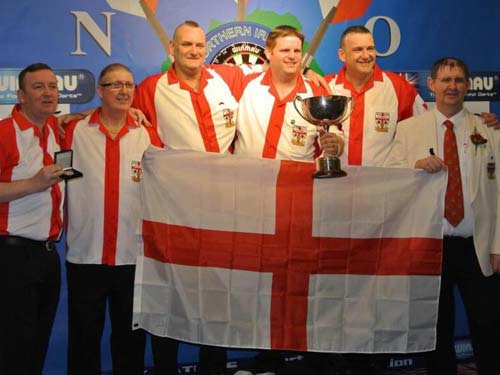 England were drawn in a tough group against the Republic of Ireland and current Europe Cup holders Wales. In the first match they beat the Irish 18-7 and followed this with a 14-11 win against Welsh. They topped the group which set up a semi-final draw against the hosts from Northern Ireland, this was a knockout round. England secured their place in the final by winning 13-6. Congratulations to Scott who with his four England colleagues, Glen Durrant, Martin Atkins, Paul Hogan and Mark McGeeney retained the Six Nations Cup in a repeat of last year's final against the Netherlands. This match went down to the last leg, final score 13-12.
Superleague Pairs and England National Singles Competitions
Saturday 21st February was the second evening competition to be held this year.
The Superleague Pairs competition saw the ladies defending champions Lin Bellingham and Di Martin (Melcombe Regis) retain their title against the Lytchett pairing of Jean Brown and Katie Mitchell.
The men's event was to see Sherborne's Matt Yarrow and Nigel Lamb crowned champions against Bryan Pearson and Derek Legg (Lytchett).
Also on the night the England National singles competition was held, the next round will take place at Selsey in Sussex on the 19th June 2015.
The qualifiers are as follows:
Men's: James Lane, John Clark and Matt Yarrow
Ladies: Suzy Trickett
Staffordshire v Dorset Report

The weekend of 7th-8th February saw Dorset away to Staffordshire. Such is the commitment to County darts two-thirds of the team travelled the 200 miles to the hotel on Friday. Even the World Champion Scotty 'Dog' Mitchell travelled up Friday night to be there for both days to support and cheer his team on. After our tremendous 24-12 win at home to Somerset last game, hopes were high for continued success. Every game is important after missing promotion by just one game last season.
First up for the Ladies B was Felicia Blay (Lady of the match last game) couldn't find her form and lost 0-3, wins for Lisa Prowse, Claire Whatley, Wendy Lamb, Trina Perry and Cath Campbell who won 3-1 with a Lady of the match performance and average of 18.25 gave us an almost perfect start 5-1 up.
First up for the Men's B was the team Captain Mark Porter, leading from the front, he along with Alan Ayres and Dale Masterman got us off to a perfect start all winning and giving us a 3-0 lead. Next up was Matty Woodhouse far from his best losing 0-3. A win from Lee Edwardson put another point on the scoreboard. Then a return to County Darts for Matt Yarrow after an 8 year break who played well hitting a 24.13 average but losing 1-3. Steve O'Marah followed this with a cracking game, winning 3-0 and another Man of the Match and a superb 29.47 average. Then wins for Terry Gowans, Sean McMurray and Mark Grimes put the B team 8-2 up. Next was Graham Knight who battled and hit a 25.13 average but just lost out to Staffordshire's Man of the match Daniel Allsop who hit a 26.29 average. Up last was Lee Turle who seems to make the stage his own and won 3-0 with a 27.33 and another convincing win. Team score 9-3 up. The Men's B team had played extremely well with an average that was 25+. So going into Sunday the score was standing at 14-4 to the visitors.
On to the Ladies A, up first was Julie Frampton the game going to a deciding leg which she won. Followed by Suzy Trickett who came up against Staffordshire's Lady of the match Susan Sherratt who hit a 21.17 average. Wins for Julie Boggust and Sarah Chick who won 3-1 with a 21.11 average and got our Lady of the match put the girls 3-1 up. Unfortunately Lin Bellingham and Peri Yarrow both lost, match ended in a 3-3 draw.
The Men's A now only needed two games to win the weekend.
The first three games were lost, Rob Martin, then John Bothamley, going 3-0 up but Staffordshire's James Hughes brought it back to 3-3 and forced a deciding leg. John against the darts despite hitting 7 perfect darts (everyone's thinking a live 9 dart leg) lost with a 25.72 average. Then Thomas Chant who had a cracking game, all of the first 6 legs going with throw but just two unlucky throws and a good 140 at the right time by Staffordshire's Martin Wheawall gave Staffs the win and he was their Man of the match with a great 31.75 average. So Dorset had lost the last 5 games in a row. Steve (slow hand) Penney back up in the A. Nigel Lamb, Ryan Gowans, Steve Earley, Scotty Mitchell, Matt Read, Tim Clothier and Kevin Smith won the next eight games in a row to put us 25-10 up. Last up was Richie Gomm who played an on form Andy Beardmore. Richie took it to a deciding leg but Andy hit the winning double.
End result Staffordshire 11 Dorset 25, an amazing win. That's now two great wins in a row and The Green Army marches on. Our next game is away to Gwent (a re-arranged game). Since Scotty's world title win we've won 24-12 and now 25-11 he's given both players and supporters a renewed belief. Men's A Man of the match was once again to go to Scotty Mitchell with a magical 34.55 average that's about 103+ landing him the highest average in the country for the weekend. Well done Scotty!
MARTIN'S HIGHLIGHTS
The great TEAM performance... Mens B averaging 25+... Mens A averaging 26+... SLOWHAND (Steve Penney) I don't mind you throwing slow, as long as you keep banging in the scores and chalking up the wins.
RESULT
Staffordshire 11 - 25 Dorset

Women's B Won 5-1 // Mens B Won 9-3
Women's A Drew 3-3 // Mens A Won 8-4
England Open 2015 Booking Form
The Early Bird Singles which normally runs on the Friday evening has been replaced by the England National Singles event this year. This is now a Cat C BDO Invitational event, registration is possible form 5pm on the Friday evening to toe the oche at 6pm.
For further details see England Open flyer.
England Open 2015 Flyer - Booking Form
Scott Mitchell Crowned BDO World Darts Champion 2015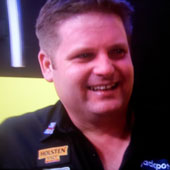 Scott Mitchell fulfilled his lifelong dream winning the BDO World Championship 2015 in an enthralling final against Martin Adams fought right to the end.
>> Reaction, match stats, photos, news
Scott Mitchell Crowned BDO World Darts Champion 2015