Welcome to Dorset Darts
This is the Official home of The Dorset County Darts Association. Here you can find all the latest information from The British Inter Counties Championship, Dorset Superleague and related Competitions plus any Local Competitions... Enjoy Your Visit.
Upcoming Superleague Competition
Saturday, 25th October
Superleague Singles - Men's and Women's
Time: 6.30pm Registration - 7.00pm Start // Venue: Branksome Con Club
Cost: £4.50
UPDATES
Last update - 23rd October 2014 (County - Division One Averages and Superleague - Mens Week 4)
Las Vegas Casinos play host to some of the worlds biggest darts tournaments including the Desert Classic and Team Dart events.
Dorset Sponsorship Opportunities
Dorset have an Opportunity for Businesses, Teams and Pubs/Venues to Sponsor a number of the Darts Surrounds Purchased for the the set up at
Branksome Con Club as well as advertising in our County Programme next season.
Upcoming Fixtures and Competitions
25th October
1st/2nd November
15th November
Superleague Competition
County
Superleague
Dorset News
Dorset v County Durham Report
Dorset played their first match in the BICC Division 1 this weekend 4th/5th October against County Durham. They were hoping to continue the form that saw them narrowly miss promotion to the premier division last season.
On Saturday at midday the Ladies B opened Dorset's campaign, first up was Felicia Blay (Melcombe Regis) unfortunately she struggled to find her top game and lost 1-3 (13.76). She was followed by Claire Whatley (Bournemouth) playing her 5th game since her return to the county stage last season, she hit a 16 dart final leg to win the game 3-2 (18.34) and the Lady of the match award. This was to be Dorset's only win in the Ladies B as the last four players despite playing well failed to win any of their games. They were Lin Bellingham (Melcombe Regis) 0-3 (16.94), Julie Boggust (Lytchett) 2-3 (17.43), Donna Mabbatt (Poole) 1-3 (17.31) and Ladies Captain Sally Old (Sherborne) 0-3 (17.07).
1-5 down and not the start that the team had hoped for.
The Men's B team were next on to the stage. First up returning from a back injury was Steve Penney (Lytchett) winning 3-1 (23.80). Second to play was Terry Gowans (Melcombe Regis) checking out with a superb 101 to win his match 3-2 (23.59), Matt Woodhouse (Alderholt) was clinical with a Man of the match award winning performance 3-0 (27.83). Fourth to play was Sean McMurray (Portland) despite hitting the first 180 of the match he just lost out in the deciding leg 2-3 (24.50). Up next was Lee Turle (Kinson) making his 10th appearance for the county, a terrific win 3-1 (26.51). Last up before the break was Rich Perry (Lytchett) although taking two shotouts of 106 and 113, lost 2-3 (21.98).
With the match score standing at 5-7 in the visitors favour, the second half of the men's match began with Graham Knight (Dorchester) his new darts performing well, winning 3-1 (25.18). With 313 previous appearances under his belt, the veteran and team Manager John Clark (Lytchett) wins 3-0 (25.47). The match now all square Rob Martin (Alderholt) takes to the stage to put Dorset in front for the first time in the day 3-1 (22.77). Next up Men's Captain Mark Porter (Lytchett) extending the lead winning 3-1 (25.46). The penultimate game of the day was Alan Ayres (Sherborne), fighting back from 0-2 down and just missing a 119 shot in the last leg he loses 2-3 (23.53). Final man to play was Steve O'Marah (Alderholt) ending his run of bad luck with a solid win 3-0 (22.10). The Men's B match result was 9-3 giving a running match score of 10-8 to Dorset.
Sunday morning was the start of the A team matches, the Ladies start the proceedings again.
First up was Trina Perry (Lytchett) not finding her range, losing 1-3 (14.08). Second to play was Peri Yarrow (Sherborne) back to winning ways with 3-1 (16.80). Up next opening with a superb 16 dart leg was Suzy Trickett (Lytchett) winning 3-0 (20.31). Fourth game up was Caroline Carter (Bournemouth) getting better with every dart she threw, yet another 16 dart leg to win the game and the Lady of the match award 3-0 (23.12). Sarah Chick (Sherborne) played out a five leg epic but just lost out 2-3 (18.34). The finale was another exciting five leg game, Julie Frampton (Christchurch) coolly hitting a 19 dart leg to win 3-2 (19.73) and the Ladies match 4-2.
This made the overall match tally 14-10.
The Men's A team now needed just another five points to take the victory. First on stage to take up the challenge was Ryan Gowans (Melcombe Regis), not to be outdone by his father who had played on the Saturday, trailing 1-3, taking out a 140 shot to swing the momentum and a win 4-3 (26.08). Making a return to the A side was Richard Gomm (Melcombe Regis) taking the game 4-2 (26.96) and collecting the Man of the match award for his efforts. Keeping the wins on target was Tim Clothier (Alderholt), with a nail-biting seven leg game 4-3 (26.56). By the fourth game there was a technical fault with the stage microphone, in spite of this an undeterred John Bothamley (Poole) fought out a hard game just losing 3-4 (26.29). Next up was Matt Read (Sherborne) who played Durham's Man of the match, losing with a respectable 0-4 (24.22). Sixth game was to see Nigel Lamb (Sherborne) step up to get the point to seal the match draw, he did this in style 4-3 (26.86).
The second half of the Men's A match would see Dorset's England International Scott Mitchell (Lytchett) take to the stage to have the honour of sealing the match win. A solid performance winning 4-1 (26.35) would take the win and the bonus points. Despite best endeavours from the home players, Kevin Smith (Poole) 3-4 (24.81), Steve Earley (Boscombe) 1-4 (25.84) and Mark Grimes 3-4 (Christchurch) the next three matches went to the visitors. A late rally from the last two Dorset men Dale Masterman (Lytchett) 4-2 (23.06) and Thomas Chant (Blandford) 4-0 (22.02) would give the home team a fantastic 21-15 triumph.
Europe Cup
As we reported earlier in the month, the Europe Cup was taking place in Bucharest, Romania over the last weekend of September. The format was made up of pairs, singles and a team competition. The players would earn points for their respective teams depending on how far they finished in each contest. Some thirty countries from over Europe were represented. Dorset's Scott Mitchell was once again donning his England shirt to assist the English crusade.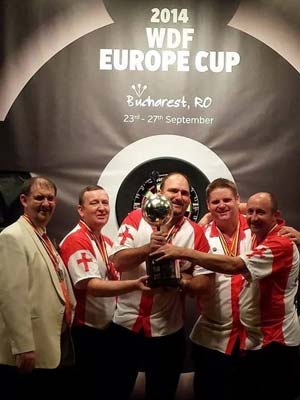 The first event was the pairs, Scott was paired up with his namesake Mr Waites from Yorkshire. This proved to be a perfect match as the two Scotts won the Gold medal. Winning their sixth match against fellow English pairing of Glen Durrant and James Wilson 6-5 in an extremely close final.
The following day was the four man team competition, each man to play against each of their opponents over one leg, first team to nine legs. England battled to the final where they faced a strong squad from Wales. This was another superb display of darts with the Welsh taking the victory 9-7, a Silver medal for the England team.
The singles was the next event, Scott played well making it through to the third round where Michal Ondo of Czech Republic proved too strong ending the Dorset lad's run. The overall competition was won by the men of England, giving Scott two Gold and one Silver medal to bring home.
Darts World
Congratulations to Daniel Perry who was named as Darts World's Star Player Of The Month for October 2014 (Number 503) for his recent success in local competitions.
British Open 2014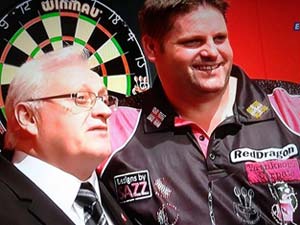 This tournament was held on the weekend of 20/21st September up at Bridlington in Yorkshire. Our much travelled Darter Scott Mitchell was playing again in this event hoping to go better than his semi-final defeat in 2013 against the eventual Champion Garry Thompson.
This event was covered live on Eurosport 2 from the quarter-finals. It proved to be perfect viewing for all in Dorset, as Scott had again got himself through to the televised stages. He had a tough quarter-final match against the two time world champion Ted Hankey, who is just coming back into his power scoring best. Scott edged out Ted winning the match 4-3 with his two magnificent final legs. His semi-final was a repeat of the England Matchplay against Gary Robson, a fantastic even match with a plethora of 14 dart legs that went down to the wire. The final leg won after very tense double shooting from both players, showed they were human, after robotic scoring and checkouts. A relieved Scott winning 5-4.
This set up the chance for Scott to claim another title. Billed as "the Landscape Gardener vs the Dustman", typifying what the BDO is all about. His opponent was Wales Captain Martin Phillips, with unblinking concentration, the Bransgore Landscaper only losing one leg, won the match 6-1 and the title of British Open Champion 2014. No time to rest for Scott, he will be leaving Bridlington to fly out to Romania for the Europe Cup. Best of luck to him and his fellow England players.
England Matchplay
Held at Selsey in Sussex on the weekend of 13/14th September. This competition is run by the England Darts Organisation and was being covered on live-stream for anyone unable to attend the event.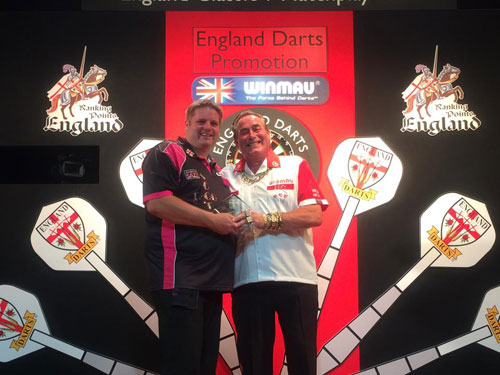 Dorset's Scott Mitchell proved once again he was the man for the big occasion, by adding this title to his growing collection. His route to the trophy was not going to be easy. His opponent in the quarter final was Wesley Harms, who had given Scott a hard lesson defeating him in the final of the England Open 7-2 back in June this year. Scott beat Wesley 4-2 this time. The semi-final was against the fast shooting Gary Robson, Scott with a timely 120 shot-out which turned the match around took the match 5-3.
On to the final, his opponent was Garry Thompson, known as the recliner for his laidback approach. Scott having played him several times before, knew he was not a man to be underestimated, with steely determination Scott took the title with a fine 6-1 win over Garry.
Competitions
On Sunday 7th September the first Superleague competitions of the season were held at Branksome Con Club, results were:
Challenge Cup
Men's Champions are Rich Perry and Derek Legg of Lytchett who defeated Father and Son pairing Terry and Ryan Gowans of Melcombe Regis in the final.
Ladies Champions are Suzy Trickett and Katie Mitchell of Lytchett who defeated three time winners Sally Old and Peri Yarrow in the final.
Lakeside World Professional
The Lakeside qualifiers were also held on the day, Trina Perry and Mark Porter will be making the trip to Hull to play in the national play-offs, Good luck to both of them from Dorset.
Dorset Shirts, T-Shirts, Hoodies and other Merchandise
We are pleased to announce that Dorset are now able to supply some Official Dorset Merchandise in the Shape of Polo Shirts, Hoodies and Zipped Hoodies. These are all available in all sizes from Child to all Adult sizes. Prices: Polo Shirts with Dorset County Darts logo and With Castle and Darts £15 Hoodies as above = £20 Zipped Hoodies = £25 We hope to add some photo's soon of these items. To Order yours please either contact Sazzbydesigns (see below, link to email) or Sharon Mitchell. £3 from each sale goes to help Fund Dorset.