We are pleased to announce that Dorset are now able to supply some Official Dorset Merchandise in the Shape of Polo Shirts, Hoodies and Zipped Hoodies.

These are all available in all sizes from Child to all Adult sizes.

Prices:
Polo Shirts with Dorset County Darts logo and with Castle and Darts - £15
Hoodies as above - £20
Zipped Hoodies - £25

To Order yours please contact either Designs by Sazz or Sharon Mitchell.

£3 from each sale goes to help Fund Dorset.
Welcome to Dorset Darts
This is the Official home of The Dorset County Darts Association. Here you can find all the latest information from The British Inter Counties Championship, Dorset Superleague and related Competitions plus any Local Competitions... Enjoy Your Visit.
UPDATES
Last update - 18th November 2014 (Local Exhibition)
Las Vegas Casinos play host to some of the worlds biggest darts tournaments including the Desert Classic and Team Dart events.
Dorset Sponsorship Opportunities
Dorset have an Opportunity for Businesses, Teams and Pubs/Venues to Sponsor a number of the Darts Surrounds Purchased for the the set up at
Branksome Con Club as well as advertising in our County Programme.
Upcoming Fixtures and Competitions
29th/30th November
6th December
13th December
14th December
County
Superleague
Superleague
Superleague Competition
Dorset News
Dorset v Hampshire Report
The first weekend in November was Dorset's second fixture of the BICC season. It turned out to be very much a weekend of two halves.
Saturday started off with the ladies B team looking to avenge their heavy defeat in the opening match against Durham. This time out the ladies match ended all square. Fine wins from Julie Boggust (Lytchett) 3-1 (16.70), Lin Bellingham (Melcombe Regis) 3-1 (15.50) and taking the lady of the match award Claire Whatley (Bournemouth) 3-1 (17.51).
The men's B team were looking to build on the nine points achieved in the previous match. They came very close securing eight more to add to the tally. Wins coming from Sean McMurray (Portland) 3-2 (23.88) and Steve O'Marah (Alderholt) 3-0 (31.98) taking the man of the match award. Steve's superb game also earned him the player of the weekend and best B player in the BICC overall. Alan Ayres (Sherborne) 3-1 (26.81), commanding in what was a must win match for him, Captain Mark Porter (Lytchett) 3-2 (22.55) hanging on for another win. Graham Knight (Dorchester) 3-1 (23.46) and Steve Penney (Lytchett) 3-2 (27.04) both looking solid in their matches. Finally Lee Turle (Kinson) 3-2 (23.17) and Rob Martin (Alderholt) 3-1 (24.26) putting the 10th and 11th points on the board.
Sunday was not quite so successful. The only win in the ladies A match was the first game of the day. What a tremendous game it was, Caroline Carter (Bournemouth) 3-1 (26.55) winning lady of the match, player of the weekend and best A player in the BICC. An average any county player would be proud of, man or lady.
The men's A team seemed to be playing copycat with the ladies, it wasn't until the sixth match that Dorset put another point on the scoresheet. John Bothamley (Poole) 4-1 (19.60). New father Matt Read (Sherborne) 4-1 (25.33) started his match with two 180s, this had the crowd silenced in anticipation of the perfect leg. A close match followed and the second win. No 9-darter but there's always next time Mooster. A superb game from Nigel Lamb (Sherborne) 4-1 (27.52) made it seem that the tide may have been turning. However this wasn't to be, the only other win coming from Kevin Smith (Poole) 4-1 (22.91) making the men's score 4-8.
The final match score was 16-20 to our visitors from Hampshire.
Superleague Singles Competition - Mens and Womens
Saturday 25th October was the start of the evening darts competition trial. Many thanks to those who attended, feedback was positive, a few new faces were in attendance.
The results of the Ladies semi-finals were Cath Campbell (Sherborne) winning 3-0 against Jean Brown (Lytchett) and Julie Boggust (Lytchett) defeating Catheryn Hulme (Poole) 3-2. This was to set up a very close contested final with Julie taking a two leg advantage only to see a fired up Cath win the next three legs to secure her first Singles title.
The Men's semi-finals were both five leg matches, Rob Martin (Alderholt) beating John Clark (Lytchett) and James Lane (Melcombe Regis) edging out Steve Penney (Lytchett). The final was another high scoring contest between two players both in superb form, James managing to hold his nerve with a 3-1 victory over Rob to claim his first Singles title.
Congratulations go to both our Champions.
Lakeside/BDO World Darts Championship - January 2015
Freedom have been invited by the Lakeside Club at Frimley Green to see whether Dorset would be able to bring a Private Group up to the Club to watch a session of the BDO World Darts Championship in January 2015.
This would make a fantastic day out to take part as a Private Hire Group.
The Trip Date would be one of the following days:
either Monday 5th January, Tuesday 6th January or Wednesday 7th January.
BBC TV will filming throughout, it's a fun filled tournament, lots of interaction, great venue, bar will be open throughout and there is buffet food available to purchase on the day. 12.00 start at the lakeside Club Frimley Green Club, 17.30 finish, so you would be looking at a 10.30 departure from Poole and getting back around 19.30.
Please do take a look at the Darts website on: www.lakesideworlddarts.co.uk
We are able to provide one of our 53 seat air conditioned touring coaches which would pick up from Poole and Bournemouth. Our price per head including coach travel and entry to the Venue would be to £29 per person.
Minimum number of 30 would apply per trip. Final payment date would be required Wednesday 10th December 2014.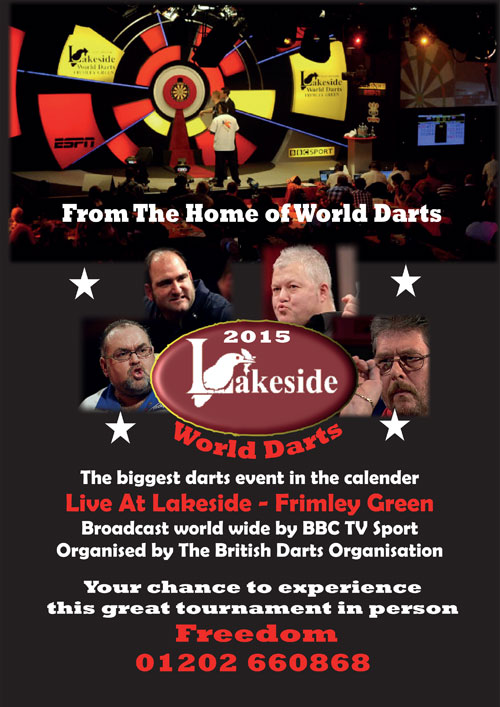 Winmau World Masters
Dorset had three individuals playing in this tournament, starting on 9th October 2014.
Daniel Perry (Lytchett) was once again in action in the boy's event. His first round was against Shane Doherty of Northern Ireland, a steady start earning him a 4-1 win. Round two was to be a match against Mattias Flodin of Sweden, another solid game sees Dan through 4-2. Next up was another lad from Northern Ireland, Jason McDonnell. A very high scoring match ensued, this time Dan was to fall short 2-4.
Eddie White (Blandford) had qualified for the championship and was drawn in Group 9. His first opponent was the high scoring Joni Laine from Finland, Eddie was equal to the task and won by 3 sets to nil. His second match was against the young but very experienced Jimmy Hendriks of the Netherlands. A close often tense match was to follow, Eddie with a couple of timely 120 shot-outs closed out the match 3-1. Eddie was well into his stride now, his next challenger was Cedric Waegemans from Belgium, there was to be no catching Eddie who dispatched him 3-0, only dropping one leg in the process.
The next game was the board final with a televised match against the number 3 seed Alan Norris as a reward. His opponent, Chris Dobey from Northumberland had been playing well all day, this continued to be the case. An extremely tightly fought match was to follow, Eddie putting up a great fight but losing out 0-3, this score-line did not justify the match, as every set went to the deciding leg.
The other representative from Dorset was Scott Mitchell (Lytchett). Scott had secured himself a place in the last 32 as the fourth seed from his BDO tour ranking. His first match was to be a repeat of his Lakeside first round from last year. 'Crocodile Dundee' Paul Hogan, as expected, produced another thrilling tight contest, another 161 shot-out when it looked like he was about to go out. Scott held his nerve and took the match 3 sets to 2. Up next was the much fancied Swede, Daniel Larsson. From the off and with an amazing display of power scoring Scott took the match 3-0.
The Winmau format as it is makes for very exciting viewing, sets being won in the blink of an eye. Scott was again soon ahead in the match, but within a flash, his fellow England international Glen Durrant was all square. A strong last set from the Cleveland player was to be enough to see him through.
A great show from the travelling darters of Dorset.
Lakeside World Championship
The Lakeside play-offs were held up in Hull on the 8th October 2014. Taking part in the youth section was Daniel Perry (Lytchett). Despite playing well his opponent Javanico Jansen from the Netherlands took the honours on this occasion.
The Ladies representative was Trina Perry (Lytchett). Her first round opponent was Dutch International Tamara Schuur. With high scoring and an impressive 126 shot-out Trina wins 3-1. Her next match was a walkover as her rival did not show. The third round was against Rachna David of Norway, unfortunately she was too strong, Trina losing out in a close match, not what the 0-3 score-line would suggest.
Mark Porter (Lytchett) competed in the Men's event. After taking the first set 3-0, his opponent Michel Boulet of France stepped up his scoring to take both of the next two sets 3-1 along with the victory.
Dorset v County Durham Report
Dorset played their first match in the BICC Division 1 this weekend 4th/5th October against County Durham. They were hoping to continue the form that saw them narrowly miss promotion to the premier division last season.
On Saturday at midday the Ladies B opened Dorset's campaign, first up was Felicia Blay (Melcombe Regis) unfortunately she struggled to find her top game and lost 1-3 (13.76). She was followed by Claire Whatley (Bournemouth) playing her 5th game since her return to the county stage last season, she hit a 16 dart final leg to win the game 3-2 (18.34) and the Lady of the match award. This was to be Dorset's only win in the Ladies B as the last four players despite playing well failed to win any of their games. They were Lin Bellingham (Melcombe Regis) 0-3 (16.94), Julie Boggust (Lytchett) 2-3 (17.43), Donna Mabbatt (Poole) 1-3 (17.31) and Ladies Captain Sally Old (Sherborne) 0-3 (17.07).
1-5 down and not the start that the team had hoped for.
The Men's B team were next on to the stage. First up returning from a back injury was Steve Penney (Lytchett) winning 3-1 (23.80). Second to play was Terry Gowans (Melcombe Regis) checking out with a superb 101 to win his match 3-2 (23.59), Matt Woodhouse (Alderholt) was clinical with a Man of the match award winning performance 3-0 (27.83). Fourth to play was Sean McMurray (Portland) despite hitting the first 180 of the match he just lost out in the deciding leg 2-3 (24.50). Up next was Lee Turle (Kinson) making his 10th appearance for the county, a terrific win 3-1 (26.51). Last up before the break was Rich Perry (Lytchett) although taking two shotouts of 106 and 113, lost 2-3 (21.98).
With the match score standing at 5-7 in the visitors favour, the second half of the men's match began with Graham Knight (Dorchester) his new darts performing well, winning 3-1 (25.18). With 313 previous appearances under his belt, the veteran and team Manager John Clark (Lytchett) wins 3-0 (25.47). The match now all square Rob Martin (Alderholt) takes to the stage to put Dorset in front for the first time in the day 3-1 (22.77). Next up Men's Captain Mark Porter (Lytchett) extending the lead winning 3-1 (25.46). The penultimate game of the day was Alan Ayres (Sherborne), fighting back from 0-2 down and just missing a 119 shot in the last leg he loses 2-3 (23.53). Final man to play was Steve O'Marah (Alderholt) ending his run of bad luck with a solid win 3-0 (22.10). The Men's B match result was 9-3 giving a running match score of 10-8 to Dorset.
Sunday morning was the start of the A team matches, the Ladies start the proceedings again.
First up was Trina Perry (Lytchett) not finding her range, losing 1-3 (14.08). Second to play was Peri Yarrow (Sherborne) back to winning ways with 3-1 (16.80). Up next opening with a superb 16 dart leg was Suzy Trickett (Lytchett) winning 3-0 (20.31). Fourth game up was Caroline Carter (Bournemouth) getting better with every dart she threw, yet another 16 dart leg to win the game and the Lady of the match award 3-0 (23.12). Sarah Chick (Sherborne) played out a five leg epic but just lost out 2-3 (18.34). The finale was another exciting five leg game, Julie Frampton (Christchurch) coolly hitting a 19 dart leg to win 3-2 (19.73) and the Ladies match 4-2.
This made the overall match tally 14-10.
The Men's A team now needed just another five points to take the victory. First on stage to take up the challenge was Ryan Gowans (Melcombe Regis), not to be outdone by his father who had played on the Saturday, trailing 1-3, taking out a 140 shot to swing the momentum and a win 4-3 (26.08). Making a return to the A side was Richard Gomm (Melcombe Regis) taking the game 4-2 (26.96) and collecting the Man of the match award for his efforts. Keeping the wins on target was Tim Clothier (Alderholt), with a nail-biting seven leg game 4-3 (26.56). By the fourth game there was a technical fault with the stage microphone, in spite of this an undeterred John Bothamley (Poole) fought out a hard game just losing 3-4 (26.29). Next up was Matt Read (Sherborne) who played Durham's Man of the match, losing with a respectable 0-4 (24.22). Sixth game was to see Nigel Lamb (Sherborne) step up to get the point to seal the match draw, he did this in style 4-3 (26.86).
The second half of the Men's A match would see Dorset's England International Scott Mitchell (Lytchett) take to the stage to have the honour of sealing the match win. A solid performance winning 4-1 (26.35) would take the win and the bonus points. Despite best endeavours from the home players, Kevin Smith (Poole) 3-4 (24.81), Steve Earley (Boscombe) 1-4 (25.84) and Mark Grimes 3-4 (Christchurch) the next three matches went to the visitors. A late rally from the last two Dorset men Dale Masterman (Lytchett) 4-2 (23.06) and Thomas Chant (Blandford) 4-0 (22.02) would give the home team a fantastic 21-15 triumph.