Week ending 24th-25th March saw Dorset at home to Surrey. Could Dorset continue their 3 match winning run? It seems ages since we've had a County Game as with all the SNOW at the beginning of the month Dorset had no choice but to cancel (and rearrange) their away game against Northamptonshire. Now Surrey are just below us in the league table if that's anything to go by and last time we met way back in November 2015 the score stood at Dorset 10 Surrey 14 when are A men's team pulled a tremendous victory beating Surrey's Men's A 10-2 giving us a 20-16 win. So how did we do this time?
Up first for our ladies B Carol Llewellyn, Carol played here normal consistent game winning 3-1. Sally Old (ladies captain) back in the side up next missed a few doubles and lost 1-3. Next up Kelly Stroud now Kelly's on a nice winning run at the moment and she didn't disappoint always in control and winning 3-0. Lorraine Woodrow up next also well in control hitting a 20.04 average and was our lady of the match not dropping a leg. Suzy Trickett up next (received an award for having the highest B team average than anyone else in our division last month) had what can only be called a NIGHTMARE inconsistent VERY UNSUZY LIKE up against Laura Hewitt who punished her every low score and didn't mess about at the double, Laura hitting a 19.13 average and was Surrey's Lady of the match, that just left Abi Northover to hopefully get our ladies a win. Abi's game going to a deciding leg which she won to get us off to a nice start. Dorset 4 Surrey 2.
Bring on the Men's B teams. Now our Men's B is sitting bottom of the league they had a bad start to the season with a lot of NEWBEES up on the stage playing County Darts for the first time but after 6 matches most have settled in well and are throwing some good darts and hitting some great averages so hopes were high.
Up first our team captain and most experienced player John Clark, John hitting a 23.54 average on his way to a 3-1 win and was our Man of the Match. Tony (Lonny) Dunning started so well hitting a 140 and 180 in the first leg but missed 6 darts at tops and 3 more at 20 and Surrey PINCH the first leg, (scores for show doubles for dough springs to mind) and then go on to take the second. Lonny a fought back to force a deciding leg, Lonny no luck getting two bounce outs and loses 2-3. Then losses for Daniel Perry and Carl Beattie and Dorset fall 1-3 behind. Nigel Lamb up next never in doubt winning 3-0 put us back in the race, then losses for Dan Adams, and Sam Ward (both 2-3) put us further behind at 2-5.
Then for me the best game on Saturday Declan Harris (Dorset) v Matt Carter (Surrey) Declan poked 72 to take the first leg, Matt took the second (Declan sat on 56) Declan wired tops to take the third leg returns to hit double 10, Matt straight back at him to force a deciding leg Declan with the throw. Declan kept his composure scored well but what a time for Surrey's Matt Carter to hit a 12 dart leg 140 135 140 86 in 3 darts and was Surrey's Man of the Match hitting the highest average on Saturday of 26.69 Declan not far behind at 26.12. Richard Perry up next again losing in the final leg and Dorset Men's B now 2-7 down and lost the match. Dorset's heads didn't go down and wins for Graham Innis, Robby Morris and Ryan Mabey brought the final score to Dorset 5 Surrey 7 and overall 9-9 going into Sunday, so it was now up to our A teams.
Now looking at the league table Surrey's Ladies A are bottom (with the likes of Laura Turner, Apylee Jones and Tricia Wright you wonder WHY) Dorset ladies A 4th but it's all about how they play on the day.
Up first our budding SUPERSTAR Sam Kirton, Sam having here own battle with Deta Hedman both fighting for 1st place in the County's running averages. Took Sam 12 darts to find here range and hit her 1st 100, and she loses the first leg. No messing after that and Sam goes onto win 3-1 hitting a 23.56 average hitting a 180 as well and was our Lady of the match (again) nice to watch. Claire Mabey (21.29) up next v Laura Turner (22.11) what a game that was and the best Ladies game to watch on Sunday. Laura hardly missed a 20 in the first leg but Claire hit a ton and a 137 and got first crack at a double tops which she hit in one dart. Laura scored well in the 2nd leg Claire hit a 104 to leave 12 Laura missed 3 darts at tops Claire 6x to go 2-0 up. Claire hits a 112 to leave 41, returns wires tops Laura pokes out. Claire not really in the 4th leg then hits a 140 and a 100 to leave 39 putting Laura under pressure to poke 101 which she did (20 45 18x) final leg decider Laura's consistency in the final leg got her the win (Laura running 3rd in County running averages) but Claire gave her a fight.
Next Peri May Yarrow (20.07) v Apylee Jones well Apylee didn't miss much and was Surrey's lady of the match winning 3-0 with a 23.91 average the highest average of the weekend for the ladies. Julie Frampton did more than enough on her way to a 3-0 win and brought us back level at 2-2. Trina Perry (19.98) took her game against Tricia Wright (20.17) to a deciding leg which she lost. So up last for the draw (no pressure then) Katie Mitchell. Katie after 15 darts is sat on 20 Surrey's Jennie Gilbert back on 308 (and I commented which Mitchell is up on stage) but missed double after missed double and Jennie SNATCHES the leg. Katie wires the double in the 2nd leg even MC called GAME until Katie pointed out it wasn't in, but she goes on to take it. Katie's game goes to a deciding leg but I think the first leg is still in her head as she loses 2-3 and final score Dorset 2 Surrey 4. All up to our Men's A we need another great performance to get a win.
What a start Danny Pearce (30.09) v Andy Bridgeman (27.97) Andy hitting a 180 on his way to taking the first leg, both having chances at a double. High scoring game Danny going 3-1 up. 4th leg Danny hits a 12 dart leg 180 100 100 121 to win 4-1 and a contender for Dorset's M.O.M. Next up (Potty) Mark Porter (25.05) a quick 4-0 winner blink and you would of missed it. Tommy Morris (23.11) hasn't been throwing many darts this month it didn't really show as he runs out a 4-2 winner, Tommy a little like Rob Cross twice in his match he wired with first two darts steps back looks again steps forward and boom double hit.
Scotty dog Mitchell (31.41) up next, Scott on a mission 13 dart first leg followed by a 16 dart 2nd leg 140 121 100 100 tops out. Scott wires tops for a 120 shot out returns hits it to go 3-0 up. Scott misses 3 darts at 12x Dave Webb (25.37) no mug takes the leg. Scotty no problem normal service resumed as he takes the 5th leg to win 4-1 and YES he's Dorset's Man of the Match. Dorset now 4-0 up. Thomas Chant (25.16) v Daryl Pilgrim (26.07) good close game Thomas hitting 2x180s but loses 2-4. Next up The Jacket Richard Wright (24.96) Richard playing consistently winning 4-1.
Next what a game Robbie Martin (28.09) v Steve Lovett (27.13) full of UPS and DOWNS, nice 15 dart leg from Robbie poking 104 to go 1-0 up. Starts next leg with a 177 and goes on to poke out in 13 darts. Robbie misses tops for a 15 darts 3rd leg but 16 darts not to shabby, Robbie looking good for a 35+ average, not if Steve has anything to do with it. Steve goes 125 140 140 96 in two against the throw and pulls a leg back 11 darts. Robbie hits a 180 in the 5th leg but leg with throw to Stephen. Robbie hits a 134 to leave 89 and set up darts gave Robbie 3 clear darts at a winning double, he misses (so close) Steve pokes 107 to force a final leg. Both players missed darts at a double leg going to Surrey (that's the down side of darts) but Dorset still 5-2 up, and that come back from Steve Lovett made him Surrey's Man of the Match. Next Matty Woodhouse (26.72) never looked in trouble running out a 4-0 winner.
Next up Mark Grimes (29.71) v Dave Parletti (24.86) Dave running 2nd in the league averages behind our very own Scott Mitchell. Mark had the perfect start 180 180 141 out YES A 9 DART WINNING LEG, the conventional way 60 57 12x and the first time I've ever seen Mark show any emotion as he punched the air, the MC (John Clark) cool as ever as he said that's game shot and the first leg to Mark. WELL THE PLACE JUST ERUPTED as both teams cheered his 9 dart achievement. The venue was a buzz we from Dorset hoped he could get his game head back on and get the win. After perfect start Mark first 3 darts next leg 27 that got a big cheer also. Mark takes the 2nd leg then the mic breaks and we are all watching the score boards as Dave pulls it back to 2-2. Mic mended normal service resumed as Mark hits a 15 dart 5th leg, and starts the 6th with another 180 and wins 4-2. Follow that.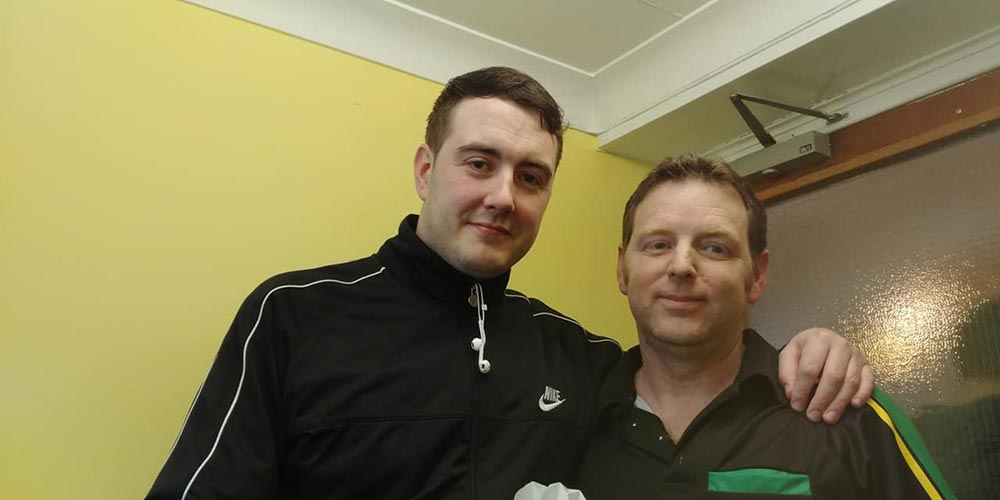 Next Henry Cooper (23.11) did feel a little for him and his opponent Aaron Turner (23.26) as both teams forming a line to congratulate Mark some wanting selfies some autographed programs FAME AT LAST but Henry not as high scoring as usual but a 4-2 winner, and pushes Dorset to the 19 game winning line. Phillip Weeks (23.66) up next far from his best losing 2-4. That just left Dale Masterman (The Big Show 26.42) who had to wait as his WALK ON MUSIC was playing up. Dale takes the first leg then pokes 135 (Bull 45 tops) to take the 2nd, turns to the Dorset massive with a big COME ON. Surrey's Gary Creamer (27.27 Surrey's captain) hit 2x140s and a 116 shot out to take the 3rd, but Dale keeps his head and wins 4-2 giving the Men's A a 9-3 win and the final score Dorset 20 Surrey 16.
MARTIN'S THOUGHTS
Nice to see Women'' B winning again. Suzy Trickett you need to believe in your self more we all know what you can do. Men's B few missed doubles and and 6 out of the 12 matches losing 2-3 SO CLOSE, Declan 2nd highest average in the B just your opponent hit higher, Sam Kirton doing what Sam does, Claire great game little unlucky, Katie having a MARE you will learn from that. Danny Pearce class, Scotty Dog never easy so much EXPECTED from you but as always you the man. Robbie Martin feel your pain mate.
Mark Grimes well that's my first ever live 9 darter Martin WOLFIE Adams came close at County against Tommy Morris 7 perfect darts wired treble 19 crowd went boooo WOLFIE cool as you like turned to the crowd and said yea I thought that, then threw his 9th dart. First for Dorset so that's you in the HISTORY BOOKS already people giving new names hope it gets you some SPONSORSHIP we all know what you can do. Team spirit good that's 4 matches in a row now to tough away games to come Oxfordshire and Northamptonshire but we will all be there cheering each other on. Green Army Marching on a up the league table.
Thanks as always to top table bar staff, the ones doing the food and those who helped clean up, Michelle and Potty.
RESULT
Dorset 20 - 16 Surrey
Women's B Won 4-2 // Mens B Lost 5-7
Women's A Lost 2-4 // Mens A Won 9-3
Match Report by Martin Maidment